Educational Offerings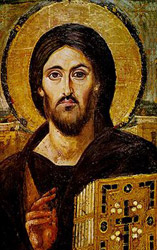 Christ the Teacher
The Anglican Church has always encouraged education, and it is to her credit that she has never feared the spread of knowledge, nor advocated that "ignorance is the mother of devotion." To the Church's noble Book of Common Prayer and her version of the Bible in the vernacular, we owe the splendor of our English literature and the development of our national tongue. So it is in this spirit that the Church of the Epiphany offers several ways for our members to deepen their understanding of the Christian faith to the end that they will deepen their devotion to our Lord, to each other in the household of faith and to all people.
Inquirer's Class
This class is taught periodically each year by our Rector, Canon Rivers, for those who are interested in knowing the essentials of the Catholic faith, with emphasis on the Anglican tradition. It is designed to introduce newcomers to the faith and for those who are merely searching for God in their lives, but we often conduct this class for longtime members looking for a better understanding of what the Church does and why. It is taught in an informal style with ample time for questions, and as Canon Rivers says, there are no stupid questions.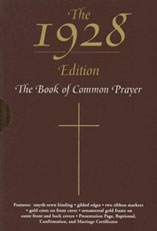 1928 Book of Common Prayer
Inquirer's class is divided into the following topics:
1-Prayer Book Overview
2-Detail of Morning and Evening Offices
3-Sacrament of Holy Eucharist
4-Sacrament of Baptism
5-Sacrament of Confirmation
6-Other Sacraments
7-The Creeds
8-Offices of Instruction
9-Theology
10-Church History
11-Liturgics
12-Holy Scripture
Lecture Series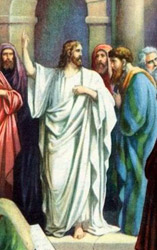 Christ teaching in the Temple
We are currently conducting a Bible Study called SALVATION HISTORY.  Please join us each Sunday at 9 a.m. for the presentation and discussion.   In this class,we have been reading the Bible from cover to cover.  Pretty ambitious for beginners, you say?  You're right.  This may be news to some of you, but there is a single plot and story to the Bible.  This book tells only one story.  We're going to tell you what that story is and how to follow it through all the individual books of the Bible.  All those individual books, when joined together and put in order by the ancient Church Fathers under the guidance of the Holy Spirit, now make up a single book.  This class will give you the tools you need so that you can start a lifetime of reading the Bible, the inspired Word of God.  Please join us for this exciting series!
Salvation History starts  at 9 a.m. every Sunday.  We are nearing the end of the study discussing the Kingdom of our Lord Jesus Christ, the fulfillment of salvation history.



As a reading resource for our members and others interested in the Church and Christianity in general, we at the Church of Epiphany have a list of books that have been recommended and enjoyed by our clergy and parishioners.
Books We Like
Click here to view the Books We Like!
Christian Formation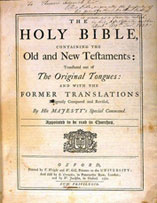 King James Bible of the year 1772
The Church of the Epiphany embarked on an educational program in the fall of 2008 called Christian Formation. It is a process for conversion and spiritual growth for non-believers and believers alike. The purpose of this process for our parishioners is to grow and mature in our own faith in and devotion to Christ and to better understand and articulate that faith to others. As the Book of Common Prayer says, "As we grow in age, may we grow in grace and knowledge of our Lord and Saviour, Jesus Christ."
This curriculum was developed by Fr. William Edison Blewett and Carolyn Criswell Fouse, a lay canon in the Anglican Church.
This method of teaching was used in the early church by the Apostles in a process called the catechumenate. Catechumenate is a word which includes the whole process of becoming a Christian. The most familiar form of the word is catechism meaning what is taught about the Faith.
Christian Formation is thus a catechumenal process for today. A journey involving prayer, individual and collective, sharing of ideas and information, thereby increasing our knowledge of our religion and the ability to communicate our beliefs to others and friendship as believers. All of this leading to making new disciples of Christ.